Kick down linkage for automatic gearboxes fitted to Rover V8's
Allows the kick down feature to function Rover V8's fitted with automatic gearboxes and four barrel carburettors

What is this listing for?
This listing is for a linkage kit, which allows for kick-down gear changes on Rover V8 engines fitted with four barrel carbs and an automatic gearbox. It's compatible with Weber, Edelbrock, Holley and Carter four barrel carbs and possibly other engine/carburettor combinations. This is the same linkage we use on our own carburetted V8 auto builds, so the quality has been proven.
Now includes upgraded stainless steel socket and connecting pins
The equipment supplied:
Mounting boss and bell crank
Stainless steel ball and socket joints
Adjustable push rod
Cable holder
3x stainless steel bolts and washers
If you require any further information, please give us a call on 01603 891209
The items included in this listing are shown in the photo below: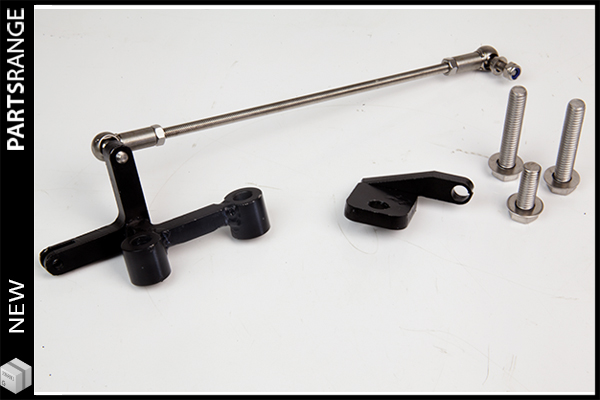 The pictures below show what the linkage looks like when fitted to an engine. Please note that the only items included with this listing are the ones shown above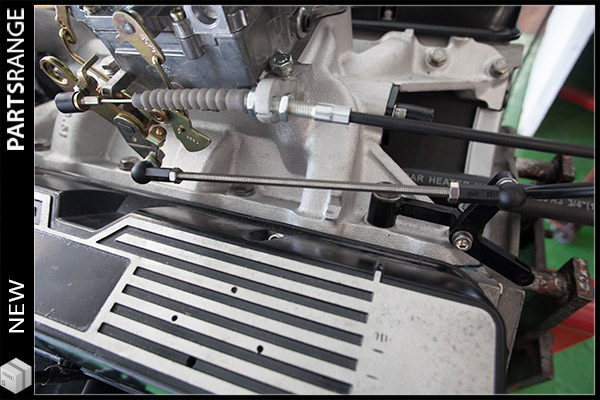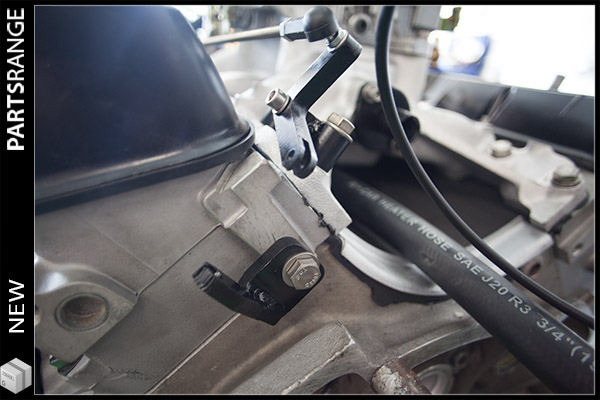 ---

FAQ Zone
Is it possible to Visit Rpi. for collection, further information or for parts to be fitted.
For sure we have many customers from all over the world, that not only visit us but enjoy our unique hospitality, as well as our in-house workshop facilities that can cater for anything from major rebuilds, restorations, engine fittings, LPG conversions. As well as drop in chipping and ignition system upgrades. Holly our Engine builder (Head Chef maybe) can always find the time to show you around the world of V8 Rover engines and explain all variants and upgrades
Whats more, Now with online 'You-Tube'. videos too.
To help give you the real feel of all we can offer, what we can achieve and the standards we aspire too we now have a space on 'You-Tube' for your enlightenment. (http://www.youtube.com/profile?user=RPIEngineering) to afford you a unique, real time snapshot of what you can expect from us. What's more, to see, feel and genuinely experience the passion we have for what we do and what we can do for your V8.
(See our other eBay items)

If you are paying by Paypal or are located outside of the UK, please refer to payment instructions. Please also remember our prices are inclusive of EEC VAT which can be deducted from your final bid price if you have exemption, or delivery of your item is outside the EEC states.
---
Summary of My Selling Policies
Payment
We accept most payment methods. Paypal is preferred, for purchases under £250.00, and we also accept all major debit/credit cards, bank to bank transfers, cheques (allowing up to 10 working days to clear), bank drafts, plus most other legitimate/reasonable methods of payment.
Fees
UK Value Added Tax is included in the final price of the Item(s) purchased; however, if you reside outside the EEC, and your purchase is exported directly outside the EEC, then you will not be liable for EEC VAT at 20%.
Also, if you are within the EEC VAT scheme, and provide your EEC VAT registration number, then the same reduction in purchase total may apply.

Local import duties are not covered in our quotes and we advise that you check such liabilities before you place your bid if you are unsure.
Please contact/inform us if you feel you qualify for EEC VAT exemption, and, if appropriate, we will adjust your invoice to remove the EEC VAT content, plus raise appropriate export documentation if required.
Shipping
We ship/post to the UK, Europe & Worldwide (mostly by fastest surface or air mail), and include appropriate packaging - no matter how sophisticated your parcel, within our delivery/postage quotation.
Adequate insurance is always included, unless otherwise specified.
Furthermore, if you purchase multiple items, then the cumulative postage quotes will be adjusted downwards as appropriate.
Delivery
Stock items are invariably shipped within 48 hours of cleared funds (normally within 24 hours or same day). All Ebay shop and auction items are assumed as being stock items (unless otherwise stated), and will be posted/shipped within this timeframe, assuming all financial transaction and delivery details have been completed.
All items purchased requiring modifications, upgrades, or for the inclusion of additional stock or non stock parts, may be subject to delay, however, you will be notified accordingly.
Refunds & Returns
Consumers in the E.U. who buy at a fixed price (Buy it Now) have the right to cancel. To cancel, please contact us in writing or by e-mail within 7 working days after receiving the goods. You will have to return the goods to us at your own cost and risk; we will refund the purchase price and the original postage charge.
Your statutory rights are not affected.
Contact Me
Feedback is the essence of a good ebayer, and we appreciate the superb feedback that has been given us already. However, due to so many transactions within our ebay shop, we have adopted a policy of returning feedback only on a weekly basis (normally every Friday).
Unfortunately however, some feedback inevitably becomes overlooked. If this is the case for you, please remind us and we will respond accordingly.

Contacting us:

Our contact email is: yabe@rpiv8.com
We will endeavour to reply to emails within 24 hours. Hours of business 9 - 4:30 Monday to Thursday, 9-4 Friday.

Our Vat number is 373 2330 72

RPi Engineering International Ltd.
Wayside Garage,
Holt Road,
Horsford.
Norwich.
NR10 3EE