Rover V8 Mega Upgrade kit - Carb, ignition and camshaft upgrades

The Ultimate Efficiency, Torque enhancement & ultimate cost effective power upgrade system for all Carburettor Model V8 Rover engines.
(The ultimate upgrade solution for all Rover V8 engines to include all and everything you see below indeed after 25 years and tens of thousands of V8 upgrades supplied you can be sure that this is the most comprehensive upgrade ever offered anywhere

The parts we offer are the parts we have developed for our own use and that of our customers so you can be sure its as good as it gets and furthermore offers far more than you are likely to expect when fitted as a complete upgrade.

What is this listing for?
A complete upgrade kit suitable for all engines (post 1976), designed to give you the ultimate in complete fueling efficiency, Camshaft appropriation plus ignition enhanced ability resulting in massive enhanced combustion ability for a smoother running, very responsive and efficient powerful engine.

Variants, we offer them all
We have other such offers for any V8 Engine indeed for pre 1976 models as well as bespoke like Land Rover 109 and 101, MGB GT V8's and the classic rover P5 and P6 models.
Carburetor System upgrade, 'Complete system'. -
New Weber/Edelbrock 500 cfm Manual Choke 4 barrel carburetor. (part number 1404)

The Edelbrock Dual Plane or Offenhauser Dual port performer intake manifold (we offer both options)
RPi's acclaimed Weber 500 ultimate Carburettor fitting kit (includes what you really need to successfully install this Carb system correctly as well as being the highest specification components)



Ignition System upgrade, 'Complete Kit'. -
A Brand new distributor including drive gear, cap, rotor arm and vacuum advance
RPi's in house developed unique high power A&R Ignition Power Amplifier
A bespoke Set of 8.0mm Magnecor plug leads including the coil lead (please tell us the model you require them for).

A Bosch appropriate coil, matched to our amplifier. (Genuine Bosch is best with this system, we do not recommend gimmick coils)

Full Engine set of eight NGK BP6ES Spark Plugs the best for all round efficiency and reliability (also avoiding gimmick short lived plugs)




Camshaft System upgrade 'Complete Kit' -
RPi Inspired Piper Camshaft 'choice'

Kent Vernier Timing Chain set

Engine Set of 16 Hydraulic Tappets.

Complete Camshaft fitting kit with Composite Gaskets, cam lube etc

---
An opportunity to visit the Beautiful Norfolk Coast while our expertsinstall and setup this kit. You can already see some of our directors pictures of Norfolk here getthatpic.com
Along with knowing the installation is doneprofessionally and correctly, our mechanics can ensure it performs to its fullpotential as well as advising on further upgrades.
---
The Carburettor Kit Section
The Weber/Edelbrock 500 carburettor Intake Manifold and fitting kit
A Brand New Boxed Weber/Edelbrock 500 cfm Carburetter, Edelbrock or Offenhauser intake manifold and RPi's acclaimed fitting kit to suit.
Why we don't sell The Holly Carbs for Rover V8.
The most affordable upgrade carburettor option has been for many years the Holley 390cfm. This carburettor has been used on all capacity Rover V8s, and with fine tuning can provide good fuelling and power for the V8 engine up to 3.9 Litre. However, the problems have always been that it is too large (390cfm) for part throttle economy/torque, and too small for more serious top-end power gains, especially on larger capacity engines. So, unless you are into drag racing, our advice would be to forget it.

Although the Weber is 500 cfm it is only approx. 200 cfm onpart throttle, the additional 300 cfm comes in on the secondary part ofthe carburettor. The advantage of the Weber is that the secondaries areboth vacuum and throttle operated (unlike the Holley which is vacuumonly). This has the advantage as sometime the engine is under load(vacuum) however you are only on part throttle and the engine does notneed the secondaries open.

The Weber 500 is better off road
Unlike the Weber, the Holley float bowls are mounted both in front and behind the carburettor, causing fuel starvation and fuel flooding problems when off roading on steeper inclines. The Weber's float bowls are either side of the carburettor, thus almost completely alleviating this type of common problem.
Proven time and time again, beyond doubt
In the past ten years of supplying this carburettor type, along with our many hundreds of customers we have achieved a great deal of combined Road & competition, off-roading (trailing) with the Weber and have found almost no fuel starvation or flooding problems even when operating on steep inclines or with faster cornering. Indeed compared to other 4 barrel type of carburettors its near impossible to find fault with the Weber - Edelbrock 500 style.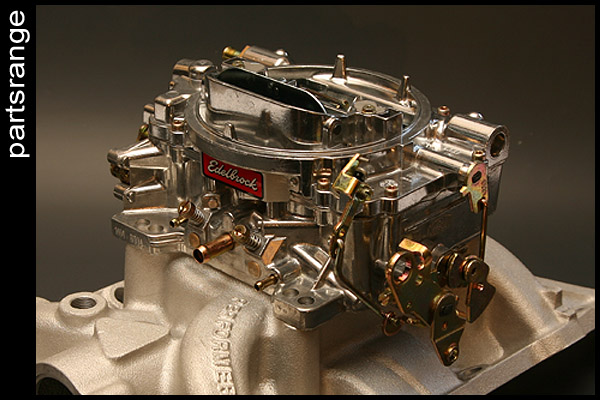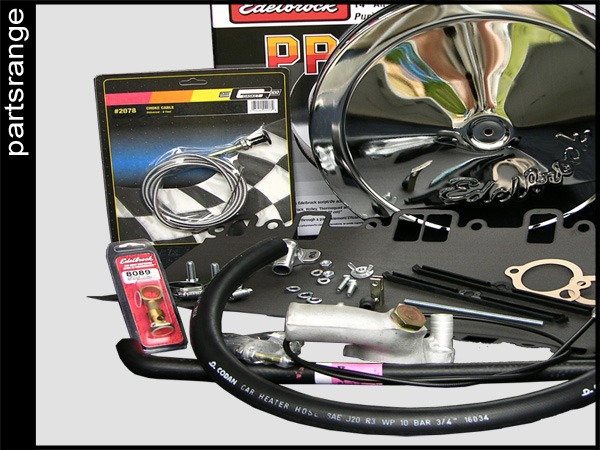 Edelbrock Dual Plane intake manifold
Shown below is the Dual Plane intake which can be too tall for 2wd models (such as MG's) so normally supplied to 4wd conversions. The advantage in design is that it offers great torque and bhp gains as would be expected when combined with the Weber Carb upgrade, and has the best ability for high revving, higher performance engines and for low-end idle. Emissions are normally improved, but the dual port manifold (below) does it even better.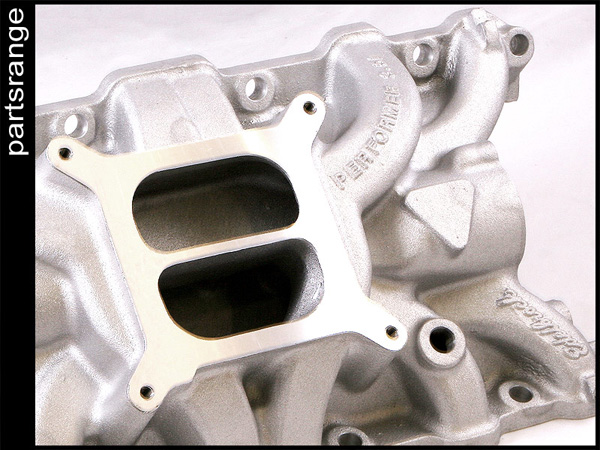 Offenhauser Dual Port intake manifold
The Dual Port manifold is designed to be considerably lower than the Dual Plane, (detailed above) so is supplied to the 2wd drive V8 applications with lower bonnet clearances. By design, it splits each intake port into 2, the upper section only supplying fuel at lower throttle settings, and the lower section supplying additional fuel when higher performance is required. With this intake you can expect superb part throttle economy & torque as well as superior top end performance.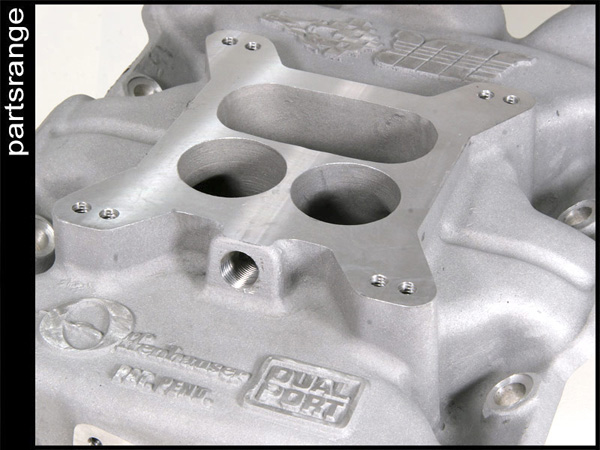 This Carburettor is made by Weber, however it is marketed by Edelbrock and therefore has an Edelbrock sticker on it.
Items included in the Carburettor Section of this Kit
1 x Brand New boxed Weber 500 cfm Carburettor
1 x Edelbrock Dual Plane or Offenhauser Dual Port Intake Manifold
1 x Composite Valley gasket. We use composite as standard as it seals better than a tin Valley gasket
2 x Rubber seals for Valley gasket - Re-using old ones will lead to oil leaks
1 x Throttle cable universal fitment - With the 4th carburetor-to-manifold bolt attached
1 x Choke cable universal fitment - will fit 2WD and 4WD
1 x Plenum Breather hose - Preformed so no kinks will develop in the hose
1 x Length of water hose - Adequate for all specifications
1 x Thermostat housing - Available in 2 wheel or 4 wheel drive versions
1 x 14" Chrome Air filter (2" or 3" height)
1 x Paper Air Filter Element
1 x Fuel banjo for connecting the fuel pipe to the carburetter
3 x Bolts to bolt carburetter onto manifold (4th bolt is on the throttle cable)
3 x Spring washers go onto bolts
1 x Thermostat gasket
1 x Water outlet gasket
2 x Jubilee clips to connect the water hose
1 x Throttle cable modification needed for 4WD vehicles
1 x Booklet detailing fitting, setting up, jetting and spares
1 x DVD showing you how to install and setup this carburettor
---
The Ignition Kit Section
The RPi Complete 5 Part Ignition Kit
A brand new Ignition upgrade kit containing all you need to increase & enhance performance, efficiency and reliability of the somewhat compromised original Rover Ignition system.

For more detailed information on Magnecor wires and our A&R amp that are included here please see our other listings.
Part 1 - Brand New Distributor suitable for almost all Rover V8s.
A complete brand new distributor with new drive gear, vacuum advance unit. original amp, Cap and rotor arm.
This item is suitable as a direct replacement for all post 1976 Rover V8 distributors by upgrading this distributor to run with our exclusive RPi Power Amp (Available in dual timing for LPG engines) which is mounted remotely
Part 2 - Dual timing A & R Power Amp.
1 Dual timing or Single timing power amplifier, suitable for the Rover V8 engine. An upgrade form the original amplifier (as supplied with the above distributor) giving 100 spark output as apposed to the Rover limited 60% output. Supplied as either the single timing (petrol only) or dual timing (LPG and petrol) version to give you the optimum ignition timing for both fuels.
What is the Advance by Retard system?
LPG is much more economical and just as powerful as petrol, but the issue is with the ignition timing and spark intensity due to the slower flame front of LPG.

When the selected fuel is gas, it is usually beneficial to employ rather more ignition advance than would be used with petrol to achieve best efficiency.

The unit addresses this requirement by allowing the timing to be set up optimally for gas and then automatically retarding the ignition (by an adjustable amount of degrees) when petrol is selected. The automatic retard is activated only when engine revs are greater than 1500, since the unit's accurate operation relies heavily on engine flywheel effect. A diagnostic indicator LED lights up when the automatic retard is active. As revs fall below 1500, the retard does not cut out until below approximately 1200 rpm. This overlap ensures that the unit cannot "hunt" near the switching threshold.

Thus it is possible to have optimum setup for gas while avoiding problems associated with over-advanced timing when switching back to petrol.

The unit contains its own integrated power output stage employing a low-saturation IGBT power transistor for low loss, minimal self-heating, and maximum reliability. The internal circuits are protected against accidental battery reversal. The input circuits allow configuration to suit most types of points and sensor types of distributors. Finally, internal links allow the automatic retard sensitivity to be set to suit 4, 6, or 8-cylinder engines (wiring diagram supplied for the Rover V8 engine).
Some key points:
Bigger Sparks, Maximum Power & Efficiency Potential, especially when upgrading other areas.
Our exclusive A&R Power Amp increases spark output from 35KV +/- (new stock) to nearly 50KV.
Small on the outside - Big Power on the inside.
Installation in less than 30 minutes without any experience.
The A&R unit is completely hand built exclusively for us & uses Insulated Gate Bipolar Transistor (IGBT) output switch technology.
If you are not running LPG we can provide a power amp which is designed for just petrol use.
Part 3 - Magnecor Plug Wires 8.0mm Blue
This is for a full set off 8.0mm Blue Magnecor Plug Leads, for 'all' Rover V8 Engines and engine variants fitted in very many different vehicles but will always be delivered correct for your Rover V8 whatever your application.
Magnecor design Origins.
In the beginning. Designed primarily for pure racing engines using racing ignitions, turbo charging and supercharging. The Entire jacket was made from aerospace extreme heat-resistant silicone rubber. Exclusive Magnecor 2.5 mm Metallic Inductance Suppressed Conductor will suppress EMI indefinitely, allowing this cable to be used on all road vehicles with any ignition styles and especially essential for LPG gas converted vehicles.

Please do not confuse Magnecor with cheaper high-street or original equipment leads. Spiral wound leads hand built by Magnecor actually boost spark output and plug gaps can safely be increased by 10-20% due substantial higher spark delivery voltage.
Part 4 - NGK BP6ES Spark Plugs
The NGK spark plugs which we are auctioning here are the BP6ES (19.0mm thread reach) which we fit into all post 1976 cylinder heads fitted to the Rover V8 applications.
The Plugs we use are the plugs we recommend, NGK is our Choice
NGK has the technology to produce plugs for every type of automotive engine, as well as for motorcycles, marine, horticultural and many other applications. In fact NGK produces and stocks over 1,000 different types of plug. Each one matches even the most demanding manufacturers' specifications. Which is no doubt why NGK are the world's No.1 spark plug.

Part 5 - Bosch Ignition Coil
This is a 12V Bosch coil, part number PRC6574G. We never use upgraded, "mega spark output" coils as they simply burn amplifiers out and cause running issues (ones that you would never blame on a newly fitted coil :-) for this reason we use this Bosch coil with our amplifier for the ultimate in ignition output.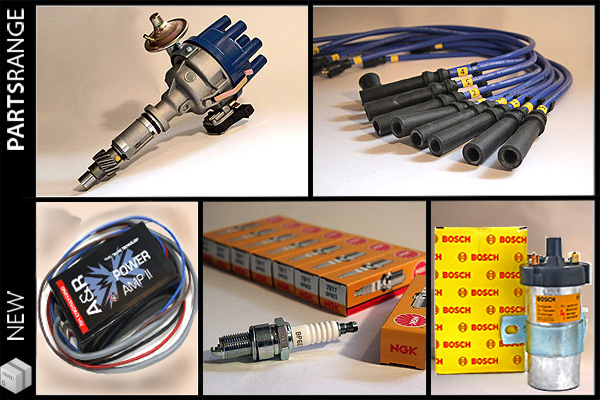 Items included in the 5 Part Ignition Section of this Kit
High Quality brand new re-manufactured Distributor
Including our bespoke A&R Ignition Power Amplifier
Plus Magnecor 8.00mm Plug Leads
Set of V8 NGK BP6ES Spark Plugs
Bosch ignition coil
---
The Camshaft Kit Section
A brand new RPi inspired bespoke Piper Camshaft kit including genuine tappets, KentVernier Timing chain set, plus all the best quality gaskets required to do the job. What's more, our never ending advice and assistance if required, not only with appropriation for your V8, but with any installation and set up questions you may have too.
Which Camshaft best suits my needs?
Piper Torquemax.
Spot on camshaft profiling for 4wd (Land Rover, Range Rover) or heavier saloon car applications with stock heads or beyond (Rover SD1, P5 & P6 perhaps). This camshaft is targeting low-end torque, mid-range power, falling short of Boy Racer level
Piper 270

If you have accomplished some further head reworking at least to Stage 1 and or beyond. We found that it achieved power increases of up to 22bhp, with surprisingly healthy increases in usable torque too, most noticeable under load and part throttle acceleration, as well as being continuous under harder driving through to as much as 5500rpm (assumed with engine correctly mapped and all other issues considered).
Piper 285
The power curve is shifted upwards by approx. 800rpm, achieving a possible 24-25bhp increase. With smaller capacity V8 (3.5) no torque loss at low rpm is noticed, but still provides a large increase of torque. Best used only with stage 1 or stage 3 heads as part of the upgrade along with ECU re-chipping etc.
Will this Camshaft kit fit my engine?
This Camshaft Kit is designed for all Rover V8's with distributors and serpentine spec engine, normally 1993 on.. For vehicles with the later distributor-less ignition system such as P38 Range Rovers and Discovery Series II vehicles and also for engines with the earlier pre serpentine please view our other camshaft kits.
Exceptions.
If you are using the 1995 and beyond engine (4.0 & 4.6), but fitting it into a different vehicle as a conversion or Kit/Custom project, and you need to use the Rover distributor with this later type engine, then you must choose one of the pre-1995 specification camshafts listed, and not the camshaft relative to the age or originality of the engine.
Some things to remember:
Never re-use your original tappets, use genuine replacements.
Timing chains are normally badly stretched and always need replacing.
Push rods are cheap and should be replaced if at all worn.
Rockers and rocker shafts should be checked for wear & signs of breakages to rocker pads, again only genuine is a suitable option for replacement.
Shim Kits are available to check and set Tappet pre-load & are an essential consideration for all Camshaft replacements or work involving valves or rocker assemblies.
Picture
Below you can see a picture of the actual Piper Camshaft kit we have available and all the components included.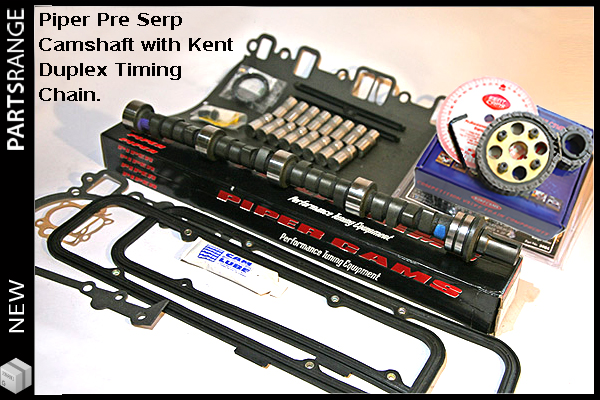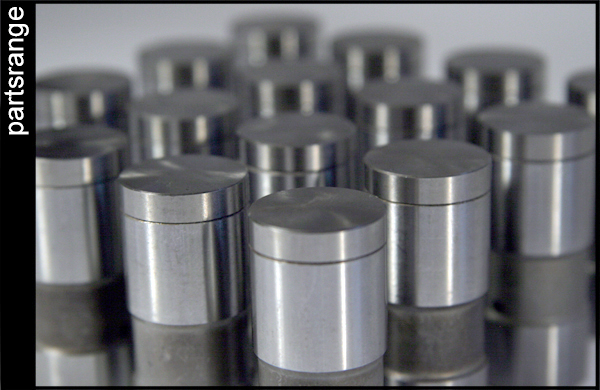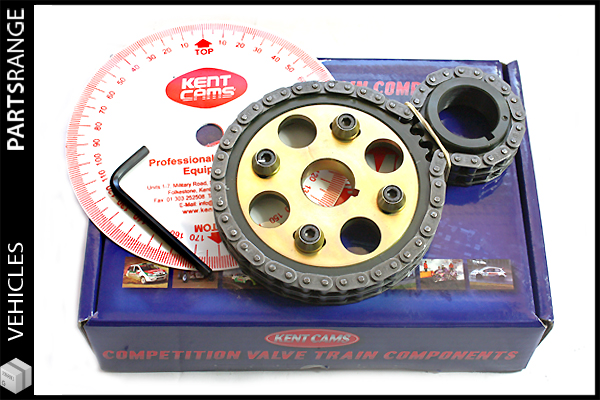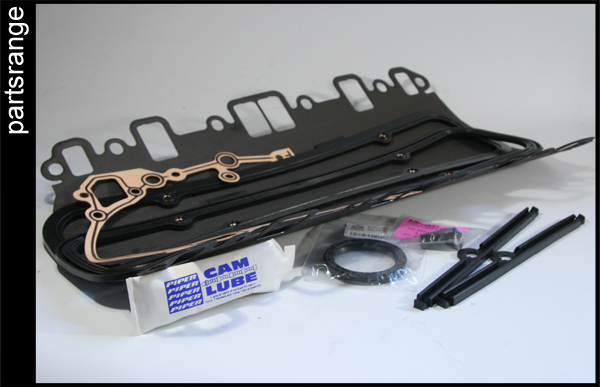 Specific details that we need from you upon purchasing this system.

We are offering here, either the single or dual timing amplifier, please let us know, which one you require upon purchasing, else we will default to sending the single timing.
Upon Purchasing a set of Magnecor Leads please let us know what vehicle you wish to fit to, so we can be sure of sending the correct leads. If you have a coil lead length of over 22 inches please contact us first.
Please confirm with us which Camshaft you require.

It is essential that you tell us the complete spec. of your existing engine to ensure the correct components are supplied.
FAQ Zone
Is it possible to Visit Rpi. for collection, further information or for parts to be fitted.
For sure we have many customers from all over the world, that not only visit us but enjoy our unique hospitality, as well as our in-house workshop facilities that can cater for anything from major rebuilds, restorations, engine fittings, LPG conversions. As well as drop in chipping and ignition system upgrades. Holly our Engine builder (Head Chef maybe) can always find the time to show you around the world of V8 Rover engines and explain all variants and upgrades.


Is Your location in 'North Norfolk', a great place to visit!
No matter where you are located in the world a visit to us and our area, whether for the day, a week or even for a weekend in itself can be very, very rewarding, We can happily offer you information and assistance for accommodation ranging from our favourite traditional eighteenth century Norfolk country house Hotel, the Norfolk Mead, http://www.norfolkmead.co.uk or Modern Hotels, Norwich central Hotels or from a chosen range of local bed and breakfast (B&B) establishments.
We can also supply information links to ferry and airports to help, what's more as I have a deep regard for all things local to Norfolk you can find a wealth of local scenic information here, http://www.scenicnorfolk.co.uk this is a unique local web site with some content supplied by myself.


Whats more, Now with online 'You-Tube'. videos too.
To help give you the real feel of all we can offer, what we can achieve and the standards we aspire too we now have a space on 'You-Tube' for your enlightenment. (http://www.youtube.com/profile?user=RPIEngineering) to afford you a unique, real time snapshot of what you can expect from us. What's more, to see, feel and genuinely experience the passion we have for what we do and what we can do for your V8.
(See our other eBay items)

If you are paying by Paypal or are located outside of the UK, please refer to payment instructions. Please also remember our prices are inclusive of EEC VAT which can be deducted from your final bid price if you have exemption, or delivery of your item is outside the EEC states.
---
Summary of My Selling Policies
Payment
We accept most payment methods. Paypal is preferred, for purchases under £250.00, and we also accept all major debit/credit cards, bank to bank transfers, cheques (allowing up to 10 working days to clear), bank drafts, plus most other legitimate/reasonable methods of payment.
Fees
UK Value Added Tax is included in the final price of the Item(s) purchased; however, if you reside outside the EEC, and your purchase is exported directly outside the EEC, then you will not be liable for EEC VAT at 20%. Thus this excess charge will be deducted from your parts total by dividing your purchase total price by 1.2 to remove the VAT.
Also, if you are within the EEC VAT scheme, and provide your EEC VAT registration number, then the same reduction in purchase total may apply.

Local import duties are not covered in our quotes and we advise that you check such liabilities before you place your bid if you are unsure.
Please contact/inform us if you feel you qualify for EEC VAT exemption, and, if appropriate, we will adjust your invoice to remove the EEC VAT content, plus raise appropriate export documentation if required.
Shipping
We ship/post to the UK, Europe & Worldwide (mostly by fastest surface or air mail), and include appropriate packaging - no matter how sophisticated your parcel, within our delivery/postage quotation.
Adequate insurance is always included, unless otherwise specified.
Furthermore, if you purchase multiple items, then the cumulative postage quotes will be adjusted downwards as appropriate.
Delivery
Stock items are invariably shipped within 48 hours of cleared funds (normally within 24 hours or same day). All Ebay shop and auction items are assumed as being stock items (unless otherwise stated), and will be posted/shipped within this timeframe, assuming all financial transaction and delivery details have been completed.
All items purchased requiring modifications, upgrades, or for the inclusion of additional stock or non stock parts, may be subject to delay, however, you will be notified accordingly.
Refunds & Returns
Consumers in the E.U. who buy at a fixed price (Buy it Now) have the right to cancel. To cancel, please contact us in writing or by e-mail within 7 working days after receiving the goods. You will have to return the goods to us at your own cost and risk; we will refund the purchase price and the original postage charge.
Your statutory rights are not affected.
Contact Me
Feedback is the essence of a good ebayer, and we appreciate the superb feedback that has been given us already. However, due to so many transactions within our ebay shop, we have adopted a policy of returning feedback only on a weekly basis (normally every Friday).
Unfortunately however, some feedback inevitably becomes overlooked. If this is the case for you, please remind us and we will respond accordingly.

Contacting us:

Our contact email is: yabe@rpiv8.com
We will endeavour to reply to emails within 24 hours. Hours of business 9-5 Monday to Thursday, 9-4 Friday, 9-12:30 Saturday.

Our Vat number is 373 2330 72

RPi Engineering International Ltd.
Wayside Garage,
Holt Road,
Horsford.
Norwich.
NR10 3EE